PREMIO MAX A MEJOR COREOGRAFÍA 2020
DANZA CONTEMPORÁNEA DE RAÍZ 
"And that is how I feel more myself than ever. I had to find a name for all this, its own defining name: contemporary root dance. Just as I am: my body is contemporary but my spine is made out of soil, out of roots that deepen into the imaginary of Spanish folklore and our precious flamenco. And here I am still, searching, in that crossroads that is my ground zero. My own space, my own abyss…"
"My relationship with dance was love at first sight.
Since I discovered the power of expression that the moving body possesses, I understood that dance would be my way of relating to life. For this reason, I began my training at an early age, later graduating in Choreography and Contemporary Dance Interpretation from the María de Ávila Higher Dance Conservatory in Madrid, where I acquired a solid foundation in different Spanish and contemporary dance styles and techniques.
This rigorous training laid the groundwork for my subsequent development as a choreographer and for me to take the initiative to direct my own company since 2014."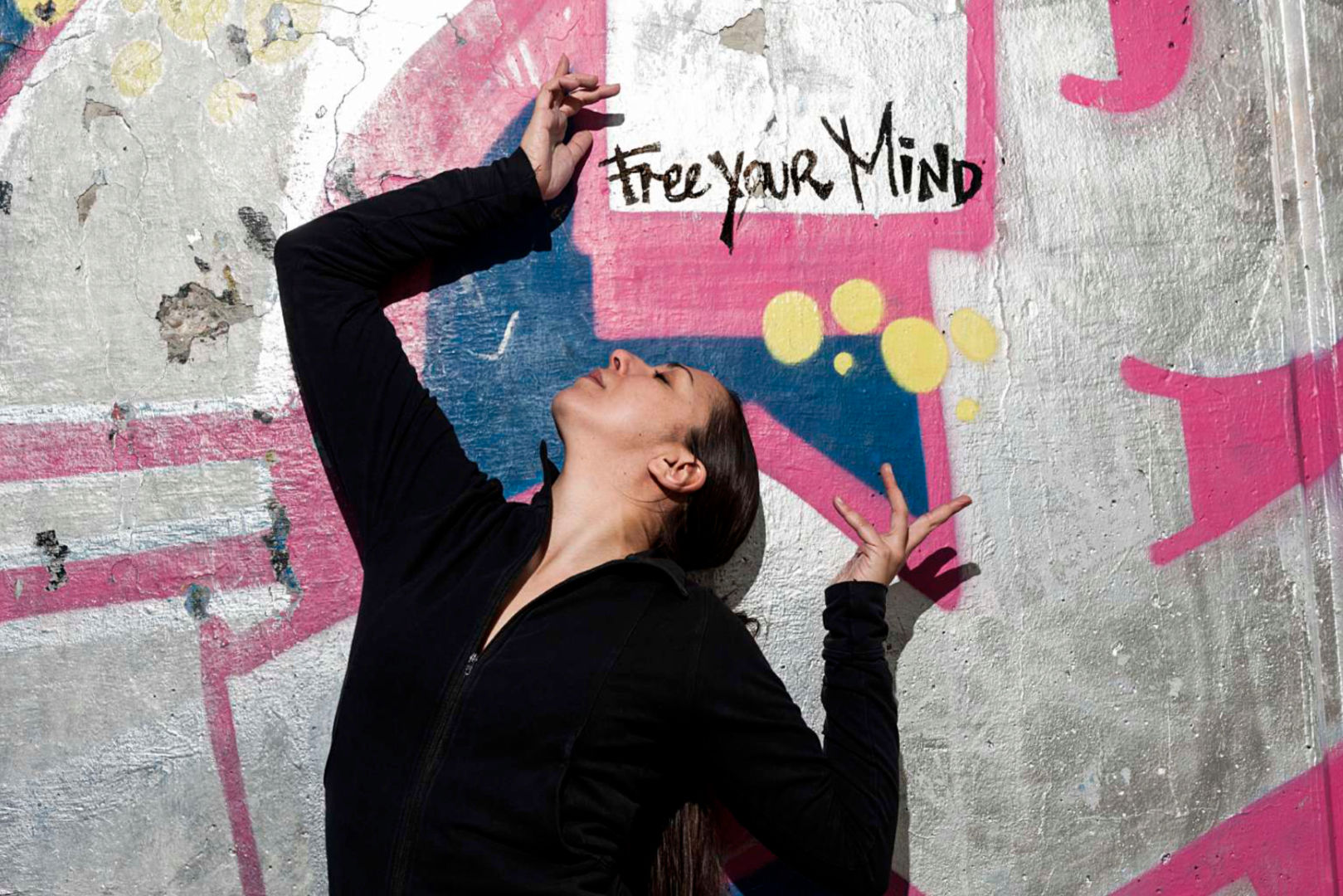 With an eclectic background, Sara Cano is a dancer and choreographer whose styles range from contemporary dance to Spanish dance, folklore, and flamenco.
Graduating in Choreography and Contemporary Dance Interpretation from the María de Ávila Higher Dance Conservatory in Madrid, she has been the director of her own company since 2014. That year marked the beginning of her solo journey with the short piece "A Palo Seco Redux," which is also the genesis of "A Palo Seco," a work in which the choreographer establishes her own unique form of expression that melds flamenco and contemporary dance.
AWARDS RECEIVED
Max Award 2020 for Best Choreography
First Choreography Prize Ex Aequo XXIX Spanish Dance and Flamenco Contest 2020
First Choreography Prize, María de Ávila Superior Conservatory Award XXVII Spanish Dance
and Flamenco Contest 2018
First Solo Choreography Prize, Award for Best Original Musical Composition, Suma Flamenca Award 2015, Award for International Companies Burgos New York XXIII Spanish Dance and Flamenco Contest 2014
Descalzinha Award, Nave del Duende Award, Cervandantes Award, Carlos III University of Madrid Award Choreographic Contest of Madrid 2018
Second Choreography Prize and Audience Award
Contemporary Woman Choreographic Contest 2015
Encargos coreográficos de Sara Cano
Encargo de la coreografía de la ópera Carmen para la Opéra Royal de Wallonie- Liège, Bélgica, bajo la dirección de Marta Eguillior.

Encargo de la coreografía de La Rosa del Azafrán para la Temporada 23/24 del Teatro de la Zarzuela, bajo la dirección de Ignacio García.

Creación de la pieza "Vaidade", para el Taller de Interpretación del Institut del Teatre de Barcelona.

Asistencia en coreografía e intervención como intérprete en el espectáculo Color Sin Nombre de José Maya, estrenado en La Sala Roja de Teatros del Canal clausurando el Festival Suma Flamenca 2022. La experiencia inmersiva Color sin nombre ofrece una forma híbrida de actuación en la que la danza, la pintura y las artes digitales se funden en fascinantes mundos imaginarios. El flamenco de José Maya y el colorfield painting de Mark Rothko se encuentran, responden y se fusionan para crear puertas a un espacio infinito meditativo. Los movimientos del bailaor nos sumergen en la profundidad de los colores sensibles y vertiginosos del pintor, para revelar toda su fuerza y su dramatismo. Un viaje espiritual universal en ocho cuadros, donde las emociones humanas vibran ante nuestros ojos.

Creación de la pieza "La cigüeña" para el Taller de Creación de 6o curso de Danza Española del Institut del Teatre de Barcelona. Remontada también en 2021 en el Conservatorio Superior de Danza María de Ávila de Madrid para el Taller de Interpretación de Danza Española. Remontada en 2022 para la Universidad de Nuevo México, en Albuquerque.

Encargo coreográfico para el espectáculo "Ya no seremos" de Ángel Rojas Proyect, bajo la dirección artística de Ángel Rojas y la la colaboración coreográfica de Ángel Rojas, Mercedes de Córdoba, José Manuel Álvarez y Sharon Fridman. Ya no seremos es una obra que nace de la necesidad de Ángel Rojas de ahondar en el concepto de creación de autor en una clara línea de flamenco contemporáneo, más allá de barreras y estereotipos. Rojas reúne en este proyecto a un amplio equipo creativo bajo su dirección artística, así como a un elenco versátil, capaz de adentrarse en terrenos abstractos sin perder la hondura flamenca en una puesta en escena marcada por la simbología del mensaje. Todo un reto que llevará al espectador a descubrirse nuevamente en las raíces de un sentimiento compartido.

Encargo coreográfico para Ibérica de Danza, para el espectáculo "Fígaro, Barbero de Sevilla", bajo la dirección de Manuel Segovia y con la colaboración coreográfica de Manuel Segovia y Sara Calero.

Encargo coreográfico para la dirección y coreografía de RODA, para la compañía valenciana Marea Danza. Pieza galardonada con el premio a Mejor Espectáculo de Calle Premios Artes Escénicas IVC 2021, candidata a Mejor Espectáculo de Calle en los Premios Max 2022, candidata a Mejor Banda Sonora de los Premios Max 2022.

RODA es un espectáculo para calle y espacios no convencionales interpretado por cinco bailarinas que presenta una revisión de la danza popular valenciana desde un punto de vista contemporáneo, marcada por el sentido de circularidad como representación del torno y el agua como elementos para plasmar la tradición alfarera valenciana como parte de la identidad del folklore valenciano. Cinco mujeres erguidas y conectadas que danzan su tradición mirando hacia delante, reformulando su movimiento para crear una oda a la vida y a la tierra.

Encargo coreográfico para la gala de la XXII edición de los Premios Max, bajo la dirección de Ana Zamora, celebrada en el Teatro Calderón de Valladolid. Bajo el lema de "La fiesta de la libertad", la mencionada gala ponía de manifiesto la cultura castellanoleonesa a través de las artes, la tradición y la vanguardia. El sentimiento de reivindicación del arte castellano fué el que primó a la hora de encajar todas las propuestas artísticas de la gala. Una fiesta de las artes capaz de conjugar tradición y vanguardia a través de recitales y actuaciones que transitaron desde los dulzaineros y los cabezudos hasta la danza contemporánea y el pop actual.
Frequently asked questions Sara Cano
How can you contact me?
ARTISTIC DIRECTION
Sara Cano
sarcanduran@gmail.com
667 652 052
MANAGEMENT
Elena Santonja ESMANAGEMENT
elena@esmanagement.es
666 203 137
Dance Narrates from Emprendo Danza: Reflections on International Dance Day 2020
I am a woman, a dancer, and I am in the prime of my life. With a body that has already experienced its forty springs, its leaves beginning to fall, its bones not flying as high... But this body still has much to say. There are many lives within this body, a thirst to experience other lives. There is still so much dance left in this body before silence and darkness engulf everything.
I am not a flamenco dancer. Nor am I contemporary. I don't know what label I should wear for others to recognize me. I seek nothing more than to be myself, to be my own label. I'm not aiming for any end goal. This is a long-haul journey, and here I stand, with a body full of things to say.
I always considered movement as my natural habitat. Before I could speak, my mother would say: "Sara, dance!" And the young girl danced, not quite understanding what she was doing, just letting herself be carried away by the torrent of emotions pouring from her moving body. I can't imagine my life without dance. For me, it's the most genuine and powerful form of expression. It can reach places where words never could. That's why it keeps captivating me and will do so until the day I can no longer dance. And even then, I will keep dancing in my mind, always... I will keep dancing.
As a performer, I always loved creating worlds through dance, telling stories, contributing ideas to other people's stories through my body. I've always been a dancer who liked to bring her personality and essence to the choreographer's work. Without realizing it, I always had a creator's soul. Also, unknowingly, being a woman influenced and pushed me to fully commit to creation. As you age, your energy isn't the same, your body changes. Suddenly, one day you're no longer the chosen one at auditions. Suddenly, you realize there are many young dancers pushing with all their might and eagerness for the coveted position you once held. It's a fact. And it's the circle of life... there are so many of us. As many (wrongly) say, dance is a thing for girls. The sad thing is, there's a lot of truth in that (poorly phrased) saying, and there are so many choices that sooner or later, you have to find another way if you want to continue on this path.
The path I chose was that of creation. Today I know I always had a creator's soul, and if not for this realization, I would never have dared, I would never have known. And so, one day you realize that your commitment to dance is even greater because now, you speak personally, you speak from yourself and you have the (self-imposed) obligation to create worlds that resonate with your understanding of creation and your relationship with the audience. To reach them, which for me, is the main act of creation: to convey a message, an idea, a feeling... and to have all of this somehow linger in a corner of the viewer's mind.
And then, one day you realize you're alone, that now you're the one steering the ship. You realize how hard it is to lead, how difficult it is to manage so many fronts, and once again, being a woman also adds to this level of difficulty. There was a time when I clung to the idea that success as a creator, as a company director, was purely a matter of aptitude and not gender, that gender had nothing to do with it. But as the years go by, you look around and see that, as in all (and I repeat, all) job sectors, the figureheads are male, and for a female leader to rise, it requires three times the effort and determination. Again, it's a fact.
Without wanting this to sound overly sentimental, you again realize this is the way it is, and if you want to stay on the ship, you must press on. You have to continue, with a genuine and steadfast commitment in your work. And you realize that the so-called weaker sex is much stronger than you thought. You see where real strength lies. In resilience, in the wonderful power of bouncing back.
You learn to cope with everything, to push yourself to be a superwoman juggling profession, family, motherhood, and home. You learn to deal with the eternal contradiction of adhering to imposed beauty standards which, even if you believe you're above them, still haunt you. You learn to assert yourself and loudly proclaim that this body is just as valid as any other. As a dancer, your body changes and needs to find new strengths beyond the vigor of a young physique. And you discover new wonderful worlds that take you to places you never thought you'd reach. You realize the beauty of being a creator, the marvelous opportunity you're given with each creation to craft something from scratch, something out of nothing.
Creation is a world that feels quite solitary (or at least, that's how I experience it). However, I'd like to think that despite this self-imposed solitude, many of us are out there, fighting for our own voice. That even though we're lost in our self-made worlds, we're somehow connected, pushing together, in the same direction, striving to rise and claim the space and recognition we deserve. Let's keep fighting...